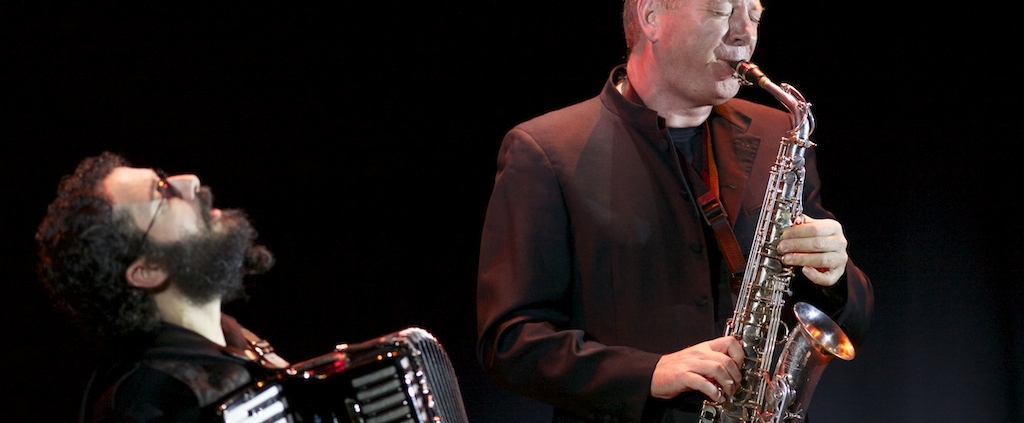 Simone Zanchini & Federico Mondelci will play live at the Naional Theatre of North Ossetia-Alania, in Valdikavkaz, branch of the Mariinsky Theatre of St. Petersburg. The concert will be performed on October 23rd 2017 at 6pm. Program:
LATINO MEDITERRANEO
FEDERICO MONDELCI, Saxophones
SIMONE ZANCHINI, Accordion
PROGRAMME
ASTOR PIAZZOLLA
Vuelvo al Sur
JAVIER GIROTTO
La Poesia
Morronga la Milonga
PAQUITO D' RIVERA
Vals Venezolano
PEDRO ITURRALDE
Pequena Czarda
HERMETO PASCOAL
Chorino Pra Ele
ASTOR PIAZZOLLA
Oblivion
Libertango
In the last 20 years, FEDERICO MONDELCI has established himself as one of the leading saxophonists of his generation. His principal studies were at the Conservatorio Statale di Musica 'G. Rossini' in Italy and later with Jean-Marie Londeix at the Bordeaux Conservatoire, France. In 1981, he was awarded the 'Premier Prix et Medaille d'Or a l'Unanimite. Alongside the saxophone, his studies also included singing, composition and conducting.
Federico Mondelci has represented Italy on several occasions in the World Saxophone Congress. These include performances in Germany, Japan, USA, and Spain. In Italy, he has performed as soloist with all the major orchestras, including the Orchestra Filarmonica della Scala at La Scala, Milan, conducted by Seiji Ozawa and the BBC Philharmonic Orchestra. During recent seasons, Mondelci has frequently performed in with the Moscow Chamber Orchestra.
Federico Mondelci has been an active promoter of contemporary music and innovator of instrumental technique. Numerous compositions have been dedicated to him and subsequently performed and broadcast for many important venues in Europe and America.
During his carreer he worked beside some of the greatest composers of the XX Century such as Philip Glass, Giya Kancheli, Luciano Berio, Giacinto Scelsi, Michael Nyman, Franco Donatoni, Henri Pousseur, Luigi Nono, Salvatore Sciarrino, Armando Gentilucci, Graham Fitkin, Nicola Piovani.
His recording of "Kya" by Giacinto Scelsi, was recently awarded the "Diapason d'Or" and a CD for RCA included music written for him by Italian composers. In 2006, Mondelci has given the world premiere of the Concerto for Saxophone and Orchestra by the New Zealand composer John Psathas.
As a conductor has appeared regularly throughout Italy with many important orchestras. In recent seasons, Mondelci has been a frequent guest in Germany and Russia, directing concerts to great acclaim including outstanding soloists as Ilya Grubert, Michael Nyman, Kathryn Stott, Pavel Vernikov, Massimo Mercelli, Francesco Manara, Luisa Castellani.
On saxophone, following his recording for Delos in 1999, Federico Mondelci has given highly successful tours throughout Europe and America, performing his own arrangements of Tangos by Astor Piazzolla.
Other recordings in collaboration with the Italian Saxophone Quartet and with the English pianist Kathryn Stott are listed in Chandos and Delos catalogues.
The concert tour 2017-2018 includes Italy, Finland, Germany, Armenia, Israel, Russia, U.S.A., Canada, New Zealand, Egypt, China. In March 2017 appeared as soloist in the main season of the Saint Petersburg Philharmonic Orchestra . During the last season he also performed with the Cairo Symphony Orchestra at the Cairo Opera House, at the Yerevan Opera House with the Yerevan Opera House Symphony Orchestra, at Hangzhou Philharmonic Orchestra in Hangzhou (China).
SIMONE ZANCHINI is considered one of the most interesting and innovative accordion player on the international scene, his research moves between the boundaries of contemporary music, acoustic and electronic sound experimentation, mixing together experiences and super-refined influences issuing in an absolutely personal approach to improvisation materials. Eclectic musician, performs an intense concert activity with groups of diverse musical backgrounds (improvisation, contemporary music, jazz, classical). Graduated with honors in classical accordion at the Conservatory G. Rossini in Pesaro, with the Master Sergio Scappini.
He has performed in several Festivals in Italy (Clusone Jazz, Umbria Jazz, Tivoli Jazz, Jazz in the Time-Berchidda, Sant'Anna Arresi, Barga Jazz, Mara Jazz, Jazz-in'it, Ravenna Festival, Rossini Opera Festival, Siena Jazz, Roccella Jonica etc.) and in the mainly international Festivals (France, Austria, Germany, England, Holland, Sweden, Denmark, Finland, Slovenia, Croatia, Macedonia, Spain, England, Norway, Russia, Tunisia, Lebanon, India, Venezuela, Japan, etc.).
He has collaborated with many internationally renowned musicians from different musical backgrounds such as: Thomas Clausen, Gianluigi Trovesi, Javier Girotto, Marco Tamburini, Massimo Manzi, Tamara Obrovac, Krunoslav Levacic, Vasko Atanasovski, Paul Fresu, Antonello Salis, Han Bennink, Art Van Damme, Bruno Tommaso, Ettore Fioravanti, Mario Marzi, Michele Rabbia, Andrea Dulbecco, Giovanni Tommaso, Gabriele Mirabassi, Frank Marocco, Bill Evans, Federico Mondelci, Adam Nussbaum, Jim Black. Since 1999 he collaborates with the Soloists of the Orchestra of Teatro alla Scala in Milan, with this group he toured regularly.
Aside from musical performances and reasearch, Zanchini leads also accordion's workshops and collective impro.
In 2006 he published Be-bop Buffet (Wide Sound) a duet with Frank Marocco, a model of the Bebop language expressed with the accordion. In 2009 Better Alone…! (Silta Records) a solo project where prove all tone colours of his instrument through the use of a particular midi accordion, live electronics and laptop, in the same year he published also Fuga per Art Jazz 5et (DodiciLune Records), the unique tribute work of Zanchini, a tribute to his great Master and one of the greatest exponents of the jazz accordion: Art Van Damme.
In 2010 he published a new Project with Ratko Zjaca – guitar, Martin Gjaconovski – dbass and Adam Nussbaum – drums: The way we talk (In&Out Records).
In May 2012 has been released the latest Zanchini's project: MY ACCORDION'S CONCEPT (Silta Records) a project built up on radical improvisation with the acoustic accordion and live electronics, a brave attempt to subvert the common code of expression through the accordion.
https://www.df-artists.com/wp-content/uploads/2020/07/Zanchini-Mondelci-.jpg
683
1024
df-artists
https://www.df-artists.com/wp-content/uploads/2018/04/df-artist-logo-fusi.png
df-artists
2017-10-09 13:38:00
2022-11-12 14:26:30
SIMONE ZANCHINI & FEDERICO MONDELCI LIVE AT THE NATIONAL THEATRE OF THE REPUBLIC OF NORTH OSSETIA-ALANIA IN VLADIKAVKAZ (MARIINSKY THEATRE).